Atmospheric Rivers brought record precipitation and improved drought conditions in California, Nevada, and the Northwest. However, much more is needed. Across the U.S., dryness and drought expanded in the South and Southeast. As of October 26, 2021, 39.6% of the U.S. and 47.3% of the lower 48 states are in drought.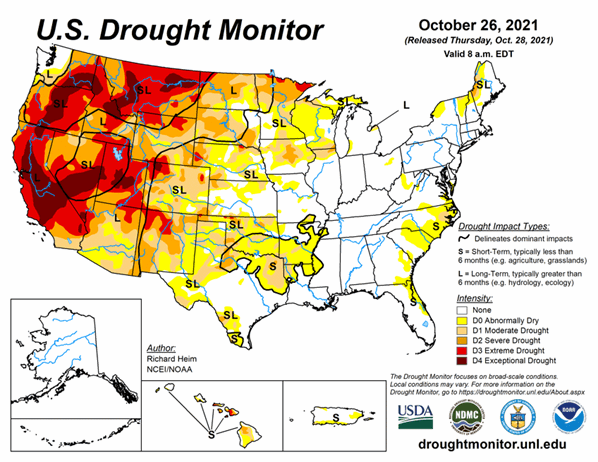 Looking Ahead
A frontal low pressure system will complete its trek across the central to eastern CONUS during the next USDM week.
For October 26-November 2, up to 3 inches of precipitation is expected from the eastern edge of the Plains to the Mississippi Valley, in parts of the Mid-Atlantic region, and along coastal New England, with 1 to 2 inches widespread in the South, Southeast, and Ohio Valley. Coastal Washington and northwest Oregon could receive 1 to over 5 inches, while the northern Rockies may receive a couple inches of precipitation. Much of the West outside of the Pacific Northwest and northern Rockies, western parts of the Great Plains, and the northern Great Lakes should receive little to no precipitation. Temperatures are expected to average near to above normal.
The outlook for November 2-6 shows drier-than-normal weather favored over the Southwest and Upper Mississippi Valley, with wetter-than-normal weather favored from the Pacific Northwest to southern Plains and eastward to the East Coast (except New England). Odds favor colder-than-normal weather for most of the CONUS east of the Rockies. The outlook shows drier-than-normal weather in northeast Alaska and wetter than normal in the south, with warmer-than-normal temperatures for most of the state.