National Current Conditions
Rain continues to improve drought conditions in the Northern Plains and Minnesota, shrinking areas of Extreme Drought (D3). Meanwhile, much of the West remains in drought, and all eyes are on the series of Atmospheric Rivers hitting the region, which could bring beneficial precipitation. As of October 19, 2021, 38.9% of the U.S. and 46.5% of the lower 48 states are in drought.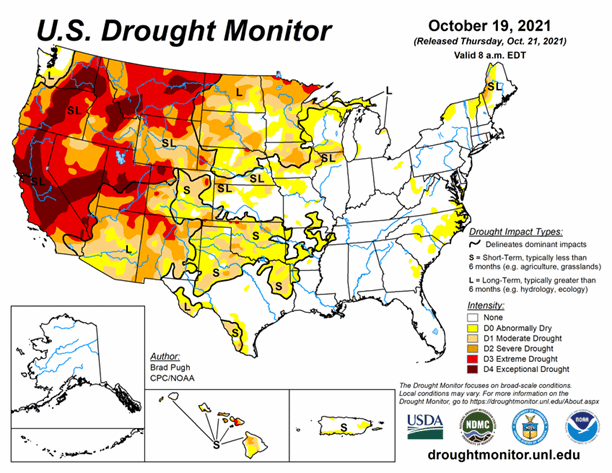 During the next 5 days (October 21 to 25), a series of low pressure systems with an increasingly strong onshore flow are likely to bring heavy to excessive precipitation (2 to 10 inches, locally more) to the Pacific Northwest and northern California. Elsewhere, the most widespread precipitation (0.5 to 2 inches) is forecast over the Corn Belt. Little to no precipitation is expected for much of the Great Plains, Southwest, Gulf Coast States, and East Coast. Along with the dry weather for the southern Great Plains, a return of above normal temperatures are forecast.
The CPC 6-10 day extended range outlook (valid from October 26 to 30) favors above normal temperatures across the central and eastern U.S. with below normal temperatures more likely for the West. Near to below normal temperatures are favored for a majority of Alaska. Above normal precipitation is likely across the Pacific Northwest, northern California, and the Great Basin, while below normal precipitation is most likely across the Southwest and southern high Plains. Probabilities for above normal precipitation are elevated from the Mississippi Valley to the East Coast.