More precipitation for the Southwest and the Northern Plains and Minnesota has reduced areas of Extreme Drought (D3) in both regions. However, 20 years of drought and warming temperatures have left the Southwest with shrinking water supplies. And for only the third time in U.S. Drought Monitor history, more than 40% of the lower 48 states have been in drought (D1–D4) for over a year (since September 29, 2020). As of October 12, 2021, 39.6% of the U.S. and 47.3% of the lower 48 states are in drought.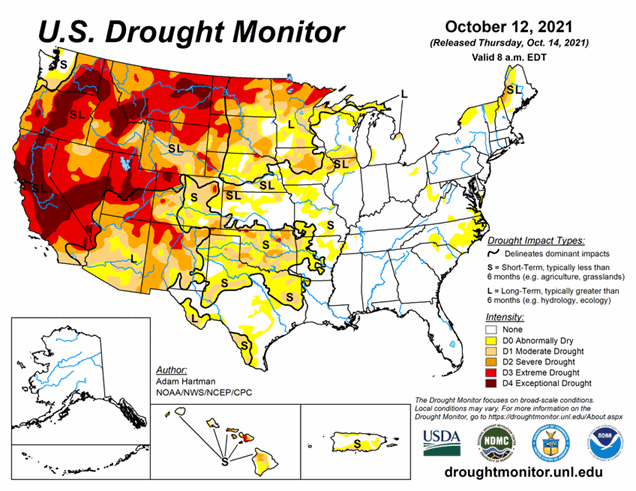 Looking Ahead
During the next 5 days (October 14 – 18, 2021), a strong surface low pressure system will track across the Northern Plains and Upper Midwest, bringing the potential for heavy rainfall. Along the tail end of the trailing frontal boundary associated with this low pressure system, the remnants of Tropical Depression Pamela from the East Pacific are expected to bring a surge of moisture to the south-central U.S. Surface low pressure is expected to develop along the remnant frontal boundary and move quickly northeastward bringing increased chances of rainfall from the Middle Mississippi Valley to the Northeast. Despite the active pattern across the central and eastern U.S., temperatures are likely to moderate across the Northern Plains and Midwest by the end of the week, while in the East temperatures will likely be more variable due to the passage of frontal boundaries. In the West, temperatures are expected to be relatively seasonal during the next 5 days, with an abrupt cool down toward Tuesday.
The CPC 6-10 day extended range outlook (October 19 – 23, 2021) favors below-normal rainfall from the eastern Rockies to the East Coast, with weak tilts in the odds toward above-normal precipitation across portions of the Southern Plains and the Florida Peninsula. Enhanced chances of above-normal precipitation are favored along the West Coast inland to the western Great Basin. Above-normal temperatures are favored across much of the CONUS, with the exception of portions of southern and central California, where near to below-normal temperatures favored.