Purdue/CME Group Ag Economy Barometer
Farmers are slightly more optimistic about current economic conditions in agriculture, but concerns about inflation are growing according to the latest Ag Economy Barometer from Purdue University and the CME Group.
The Ag Economy Barometer released Tuesday shows sentiments rose 4 points in August, which brings the barometer to a reading of 138 versus the 134 posted in July. Economists say that up-tick was driven by current conditions, which rose 9 points.
However, of the 400 agricultural producers surveyed each month, overall farmer sentiments are still well below April's reading of 178.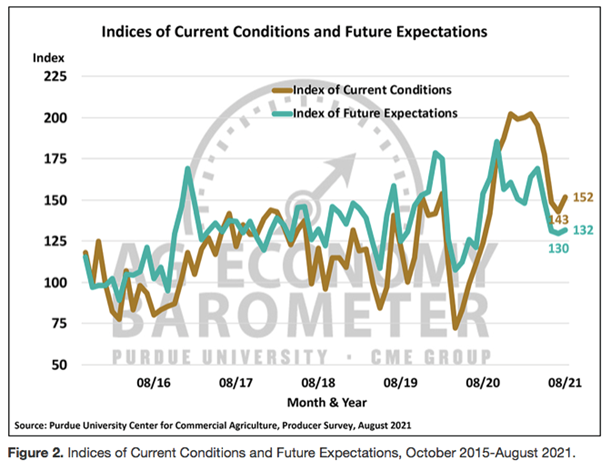 The Barometer revealed the biggest concern right now is rising input costs heading into the next growing season.
"Farmers are becoming increasingly concerned about the impact of inflation on farm input prices," says Jim Mintert, agricultural economist with Purdue Center for Commercial Agriculture who also co-authors the survey. "And in this month survey, 39% of the producers in our survey said they expect to see farm input prices rise by 8% or more over the next 12 months. And 21% of them said they actually expect to see firm input prices rise by 12% or more."
Inflation Fueling Farmland Values
Inflation is also a factor fueling rising farmland values. Both short-term and long-term farmland values expectations rose 4 points, a level that's near the all-time highs since the barometer began in 2015.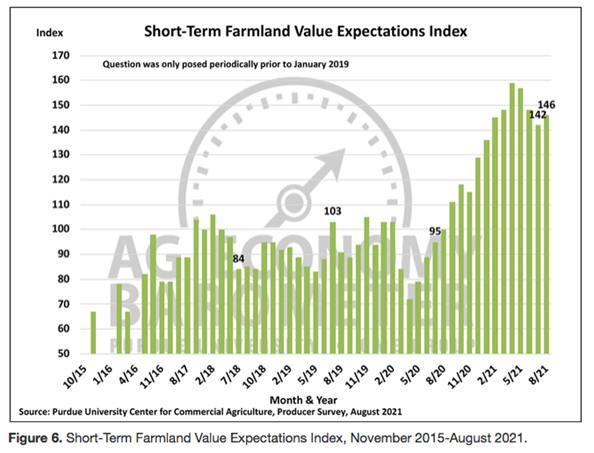 It's not just farmland values soaring. Farmers also expect to pay more for cash rent next year.
Mintert says one-half of corn and soybean growers expect rental rates to rise in 2022, with 44% expecting the increase to be 5% to 10%. One-third expect rates to rise by more than 10%.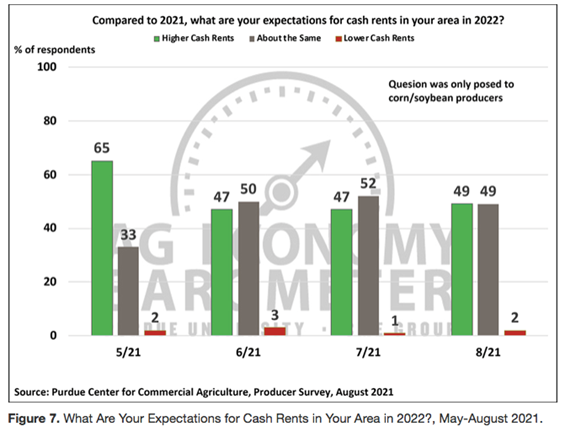 Supply Chain Concerns
The Barometer also shows farmers' plans for purchasing equipment this year remains unchanged compared to July. Purdue economists say supply chain challenges are hampering farmers' purchase plans for new equipment this year.
The "Farm Capital Investment Index" showed modest improvements in August, rising to a reading of 53, up 3 points compared to July. Mintert says the small improvement in the index could be traced to fewer producers in August saying they planned to reduce their farm construction activity compared to a year ago. At the same time, farmers said their machinery purchase plans were unchanged compared to those reported in July.