American Farm Bureau Federation
Let's move away from the inflation discussion for a bit and turn, instead, to the recently released preliminary report on second-quarter 2021 gross domestic product. The headline number of 6.5% growth in real terms was a little below analyst's expectations of over 8% but was still excellent by most other standards. This becomes even more evident when taking the headline apart.
The appropriate vernacular description here would be "the consumer is back, baby." Personal consumption expenditures contributed 7.8% to the quarterly rise. Services were 5.1% of that 7.8% figure with spending on goods adding the other 2.7%. People are spending down some of the savings we've talked about in earlier reports. The national savings rate at 9.4% was still above average but well below March's rate of 26.9% when all the stimulus money was flowing, but we hadn't had an opportunity to spend it yet.
Consumers left home in droves during the quarter, with spending on foodservice and accommodations alone adding 2.2% in GDP growth. Reflecting the significant jump in consumer spending, the personal savings rate finally dipped below double digits since hitting 33.8% in April 2020. At 9.4%, it was still well above historical averages. This higher-than-average savings rate suggests we may see another month of consumer "splurge" spending before normal returns.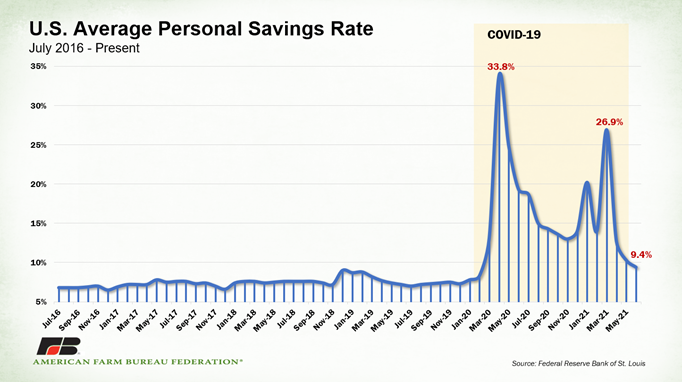 Private inventories dipped, pulling the GDP down by 1.1%. As discussed previously, a negative contribution by a decline in stocks is not necessarily a bad thing because at some point those inventories will need replenishing.
Exports also contributed to GDP growth this past quarter, albeit at a modest 0.6% rate. Imports reflected a drag of 1.1%. This is less of a hit on the overall economy than the 3.7% negative growth we observed in the third quarter of 2020.
Overall, this is a good solid GDP report, reflecting an economy on the recovery side of the pandemic-driven recession of last year. We are now on the other side of the trough. The 850,000 new jobs reported at the start of July was very positive, indicating a strong comeback in the leisure and hospitality sector. As that sector continues to return to pre-pandemic levels of activity, it will continue to pull the rest of the economy forward.