Cattle Prices Are Forecast Higher in the Second Half of 2021 and in 2022
The July 5-Area price for fed steers was $122.03 per hundredweight (cwt), up more than $25 year over year and about $9 higher than the July 2019 average price. The average 5-area steer price for the week ending August 8 was $123.83, over $22 above a year ago. While fed steer prices have been on the rise, fed steer slaughter was slightly lower for the week ending July 24 compared to a year earlier.
The forecast for third- and fourth-quarter fed steer prices was raised $4 to $124 and $127 per cwt, respectively. Given these changes, the 2021 annual price forecast for fed steers was raised $2.00 to$121.2 per cwt from a month ago. The 2022 annual price forecast for fed steers was raised $4 from last month to $126 per cwt on tighter supplies of fed cattle and firm demand.
U.S. Cattle Herd Contracts as Drought Continues
The USDA National Agricultural Statistics Service (NASS) released the midyear Cattle report on July 23, which provided a snapshot of U.S. cattle inventory as well as a glimpse into cow/calf producers' intentions for retaining heifers. July's Cattle report estimated the U.S. cattle herd at 100.9 million head, 1 percent less than the 2020 estimate of 102.2 million head. The number of beef cows is 2 percent lower than a year earlier at 31.4 million head, but the number of dairy cows is estimated 2 percent above last year levels at 9.5 million head. The 2021 calf crop is expected to be 35.1 million head, down slightly from last year.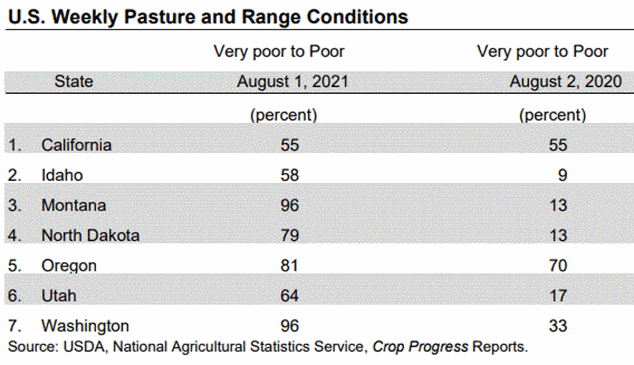 2021 Beef Production Forecast Reduced on Lighter Weights as Drought Continues To Impact the Beef Industry
Based on the USDA, National Agricultural Statistics Service (NASS) Crop Progress report for the week ending August 1, 2021, dry and low-moisture soil on pastures and ranges continue to worsen in some of the Northwestern States (see table below). Some States experienced very poor to poor conditions on as much as 80 to 90 percent of their pasture and range areas. According to U.S. Drought Monitor Data, on August 3, approximately 32 percent of the cattle inventory was in areas experiencing some level of drought.
Beef Exports Up in June, but Lighter Carcass Weights Are Expected To Lower in the Rest of 2021 and 2022
U.S. beef exports in June remained robust, totaling 267 million pounds, up 85 million pounds from a year earlier when export supplies were limited due to production and logistic constraints caused by COVID-19. For the second consecutive month, six of the seven major U.S. export destinations were up year over year. Japan, currently, the largest U.S. beef destination, accounted for 24 percent of June's total exports and 25 percent of U.S. exports year to date. U.S. exports to Japan have been underpinned by a favorable tariff rate.