The federally-inspected slaughter for June was strong, exceeding the 3 previous years (see the first chart below). More heifers and cows were in the slaughter mix in June, causing the average carcass weight to drop below last month's expectations. Based on USDA, Agricultural Marketing Service (AMS) data on actual and estimated daily cattle slaughter, the percentage of heifer slaughter compared to that of steers for June 2021 was estimated at 2.5 percentage points higher than a year ago. The estimated percentage of federally-inspected cow slaughter to total slaughter for June 2021 was 0.5 percent higher than June 2020.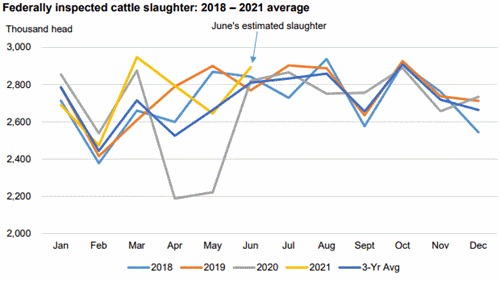 The forecast for 2021 beef production was unchanged from last month as higher expected cow slaughter will likely be offset by lower average carcass weights. According to the U.S. Drought Monitor data, approximately 34 percent of cattle are in regions experiencing some level of drought. Pasture and range in much of the western and northern United States continue to be in very poor to poor conditions (see table below), which is likely affecting cow slaughter in regions where forage availability has become critical. However, to the extent that the increase in aggregate slaughter numbers is driven by higher expected cow numbers and that heifers have recently been a higher proportion of steer and heifer slaughter, average carcass weights are expected to be lower. With higher expected cow slaughter in the coming months, slaughter in later months is expected to decline as cows that might have been slaughtered in the fall move into the slaughter chain sooner. The 2022 forecast was reduced 10 million pounds from last month to 27.325 billion pounds, reflecting slightly lower cow slaughter after higher-than-expected cow slaughter in 2021. USDA will be releasing its Cattle report on July 23, which will provide an estimate of the midyear cattle inventory and producer intentions for retaining heifers for breeding.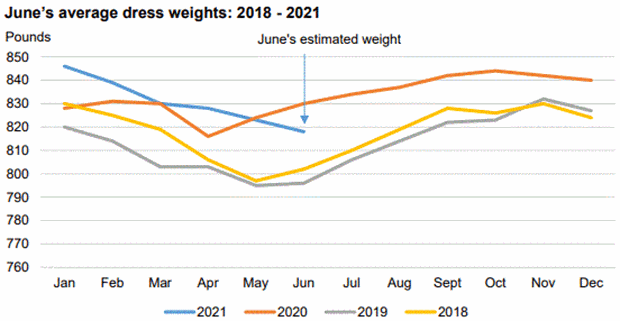 Cattle Prices Are Forecast Higher in the Second Half of 2021 and in 2022
The June 5-Area price for fed steers was $122.02 per hundredweight (cwt), up more than $18 year over year and almost $10 higher than the June 2019 average price. For the week ending July 4, the price for fed steers in the 5-area marketing region was $123.89. Although the Choice cutout has been declining since early June, it is still well above typical levels for this time of year. Fed steer prices are trending upward, implying that packers are willing to pay higher prices to bid cattle out of the feedlots. The forecast for third- and fourth-quarter fed steer prices was raised $5 to $120 per cwt and $3 to $123, respectively. The 2021 annual price forecast for fed steers was increased $2.20 to $119.20 per cwt from a month ago. Fed steer prices are forecast to continue trending upward in first-quarter 2022, reaching $127 per cwt, up $2 from last month. The 2022 annual price forecast for fed steers is unchanged from last month at a rounded $122 per cwt.
For June 2021, at the Oklahoma City National Stockyards feeder steers weighing 750-800 pounds averaged $144.09 per cwt, 10 percent above a year ago and 6 percent higher than the June 2019 price. The outlying quarters were raised on current price strength by $5.00 in the third and fourth quarters to $146 and $148 per cwt, respectively. The annual price forecast was raised to $142.1 per cwt. The current price strength is expected to carry over into 2022, with the first quarter increased $5 to $144 per cwt and the annual forecast raised to $147 per cwt.