In May, U.S. beef exports soared to a record volume totaling 318 million pounds, an increase of 69 percent or 130 million pounds from a year earlier. While U.S. beef exports were up in six of the seven major destinations, May's year-over-year increase was driven primarily by abnormally low exports due to the impact of COVID-19. However, the third consecutive month of record volumes is to a large extent the result of large shipments to South Korea, Japan, and China.
South Korea received its largest volume of beef yet from the United States, exceeding the record 75.1 million pounds posted in August 2020 by 8.6 million pounds. Since January, U.S. beef exports to South Korea have been up due to strong demand and a lower tariff rate than a year earlier. The second largest shipment in May went to Japan. The increase in U.S. beef exports to Japan has also been partially driven by a lower tariff rate than a year ago. For exports to China, the story of year-over-year increases continues. China is the U.S. third-largest beef destination and imports have been up substantially, partly due to the change in U.S. access to China's market that was established in March
2020 along with the strength of import demand for animal proteins to help offset China's low domestic supplies of pork. U.S. producers have increased production of cattle geared toward meeting China's import requirements, which has supported higher beef shipments.
There were other noteworthy key trading partners contributing to the increase in beef exports in May. Beef shipments to Canada and Taiwan rose in May from a year earlier; U.S. beef exports to Canada were up 3.7 million pounds from a year ago and exports to Taiwan were up 5.2 million pounds. However, although shipments to Mexico have been up year over year, the volume of beef exported in
2021 to Mexico has been lower than in 2019. Lower volumes of beef exports to Mexico in 2020 were partially due to economic weakness and trade disruptions due to COVID. The second-quarter forecast for beef exports was raised by 30 million pounds from last month to 890 million pounds, partly due to the stronger demand from China, South Korea, and Japan in May. U.S. beef export forecasts for the third and fourth quarters were also elevated, by 40 million to 900 million pounds and 10 million to 835 million pounds, respectively, on continued robust demand in Asia. The annual forecast for 2021 was raised to 3.422 billion pounds. This demand strength is expected to carry over into 2022, increasing the annual forecast to 3.320 billion pounds.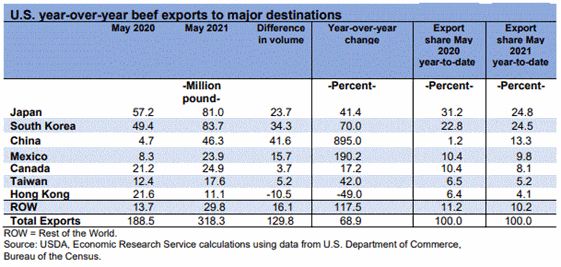 Livestock, Dairy, and Poultry Outlook; July 16, 2021
USDA, Economic Research Service