70 Angus & BWF 1st-Calf Pairs... TX Panhandle
Listing Number

304C275
Location

Panhandle of Texas
Ship From

Amarillo TX
Breed

Angus
Registered?

No
Number for Sale

70 Head
Origin

Native
Age

30 months old
Est. Weight

Avg. 1,175 lbs.
Frame

Moderate to Large
Condition

Medium Flesh
OCV

No
Vaccinations

Current on vaccinations
Horns

None
Pasture/Feed

Wheat pasture
Bred Back To

Open
Preg Checked
# Calves

70 Calves
Sired By

Express Ranch Angus Bulls
Age

Mostly January calves
Condition
Sell Part/All

Contact Seller
Delivery Date

Available now
Price

Contact seller for current pricing
Firm/Negotiable

Negotiable
Payment Terms

Wire Transfer or Certified Funds
Seller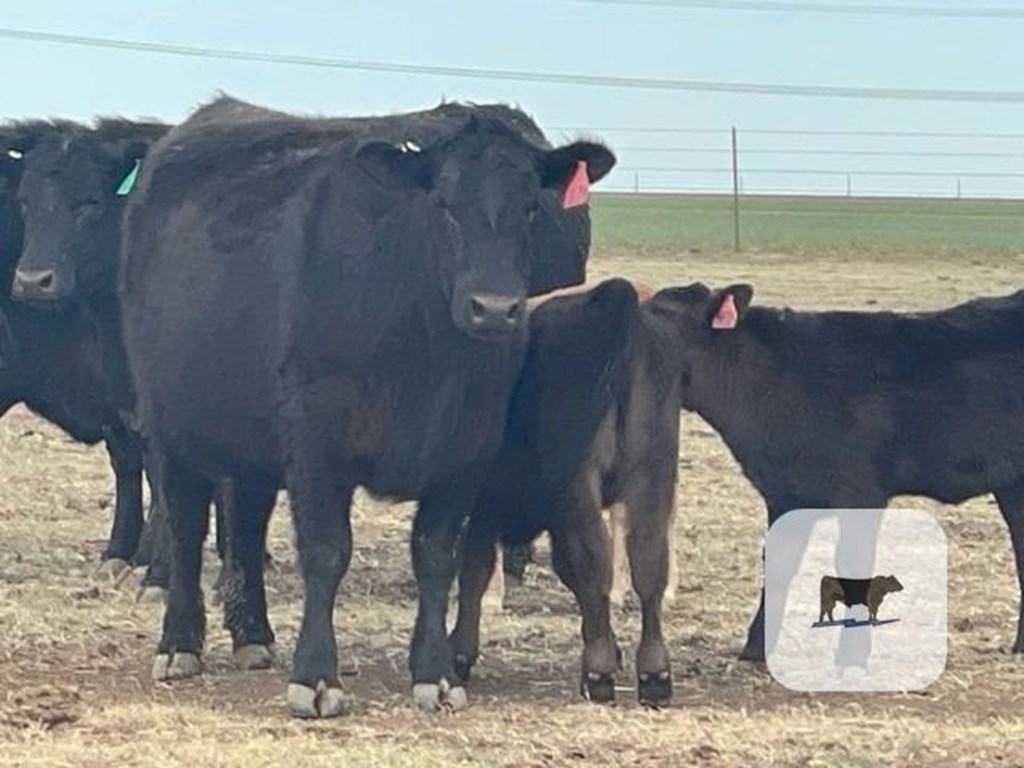 Fancy Angus & BWF 1st-Calf Pairs...
These girls thrive in extremely diverse conditions. I have seen a lot of cows but none with udder quality this good! Each quarter is perfect and teat size is uniform. In my eyes this is a perfect commercial Angus female and I haven't even gotten to how gorgeous their calves are. I am sure when you saw the calves you said wow look at them! I know I did!
This rancher likes to calf his first calf heifers early so it gives them enough time to get back in the spring calving window. 3/4 of these calves were born in January. Lots of these calves are weighing 300 pounds today. If any of you are watching the calf board it is close to $1,000 bill today for these. After evaluating these calves, I think the heifer calves on these cows are replacement quality for the most part. You can retain them in your herd and some of these bull calves are good enough to use back on first calf heifers. If you want to sell them at weaning, I bet the boards will be at $1,500 by then.
These heifers are in great flesh and cycling daily. The bulls have not been turned out, you can turn them out to the bull of your choice. If you are someone looking for embryo recipient cows these ladies will be a definite asset to your program. Call me lets talk about these fine ladies.
CowboySales
Clay Nohavitza
Cell Phone: 979.541.6703
Best Time to Call: Anytime