190 Red Angus Pairs... TX Panhandle
Listing Number

304C277
Location

Panhandle of Texas
Ship From

Amarillo TX
Breed

Red Angus
Registered?

No
Number for Sale

190 Cows
Origin

Native
Age

Mostly 3 & 5 year olds... See breakdown below
Est. Weight

Average 1,250 lbs.
Frame

Moderate to Large
Condition

Medium Flesh
OCV

No
Vaccinations

Current on vaccinations
Horns

None
Pasture/Feed

Native pasture w/ supplement and salt & mineral
Bred Back To

Open
Preg Checked
# Calves

190 Calves
Sired By

Angus & Red Angus bulls
Weight

Average 300 lbs.
Condition
Sell Part/All

Contact Seller
Delivery Date

Available now
Price

Contact seller for current pricing
Firm/Negotiable

Negotiable
Payment Terms

Wire Transfer or Certified Funds
Seller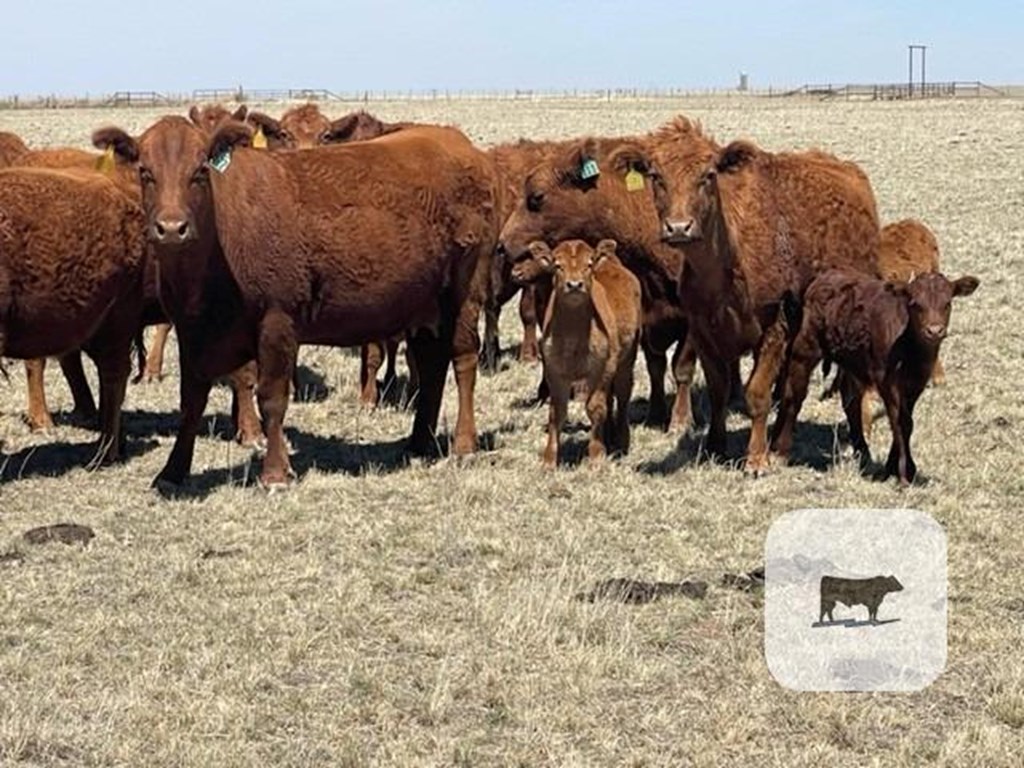 Very Gentle Cows... The calves they are raising will Top The Market this Fall!!
A few weeks ago I got a call from a long time friend saying that a friend of his is in a drought and has to move some cows. He said you will like these cows without telling me what breed they were. He sent me a few pics and told me, "these are the kind you like". My reply was I'm on the phone with the airlines booking a ticket… can I come tomorrow and wow was I impressed!!
Although that country in Amarillo is extremely dry these cattle are holding their own. They have a hell of a set of calves on them. With the current market being so high, when pricing cattle, we have to look at the calves and imagine the package at the sale barn. Most calves we about 300 pounds and these quality calves are bringing $3 per pound. And those quality cows just from packer value are worth about $1.15 per pound each and the calves are worth around $800 today.
For example:
These cows weigh 1,250 and are worth packer value of $1.15 that's $1,438 and that's just slaughter value!
If you take that calf to the sale barn today he is worth about $800, the future market looks very promising for these calves at weaning later this fall. The market expectation is Around $2.75-$3 x 550 lbs the calves should avg $1350–1500 per calf at weaning.
If you keep till weaning and you took pairs to the salebarn. The young healthy cow should bring around $1300 for Slaughter And if her calf weighs 550 and sales for $2.80 that's a $1540 calf if add the sale price to the average packer value of the cow $1300 which makes this pair a great value Total $2840 at the local salebarn!
These cattle are a no -brainer. 80 of these 190 pairs are 3 years and 60 are 5 years old. Just a handful of these cows are older than 5. They have not been exposed to a bull yet but I would love to help the new owner out in choosing the bulls. You will love any kind of bull on these. In my opinion the Brahman raised F-1 is an awesome cross. But truly what doesn't cross good with the Red Angus? Beefmaster does, Santa Gert does, Charolais does, Simmental does, Maine Anjou does, you can buy these girls with confidence. These girls will make you money. If you are looking for embryo receipent cows, these are the cows for you.
Whoever buys these I would love to stay with the program and help you buy bulls and market your calves every year.
Red Angus Herd 3 Pastures of 180 pairs 80 3 yr olds with Black Angus Calves 60 5 yr old with Red Angus Calves 50 3-7yr old with Red Angus Calves 
Shipping is available. Any questions, please call me at 979-541-6703
CowboySales
Clay Nohavitza
Cell Phone: 979.541.6703
Best Time to Call: Anytime