70 Red Angus Bred Heifers... Northeast CO
Listing Number

301C987
Location

Northeast Colorado
Ship From

Sterling CO
Breed

Red Angus
Registered?

No
Number for Sale

70 100% Red Angus Bred Heifers
Origin

Home-Raised
Age

Bred Heifers
Est. Weight

1025
Frame

Moderate
Condition

Medium Flesh
OCV

No
Horns

none
Pasture/Feed

Running out on Corn Stalks & fed Hay
Bred To

Wilson Red Angus
Preg Checked

To Be Checked
Start Calving

March 15
Finish Calving

May 1
Sell Part/All

48,000 lb. Load Lots
Delivery Date

ASAP
Price

$2100
Firm/Negotiable

Negotiable
Payment Terms

Livestock Payments will be made in Escrow prior to shipping the livestock. Funds will be held in Escrow until after the Livestock are Shipped to the Buyer. Buyer has 24 Hours to Inspect Livestock before Funds are released to the Seller. Contact Boe Robbie
Seller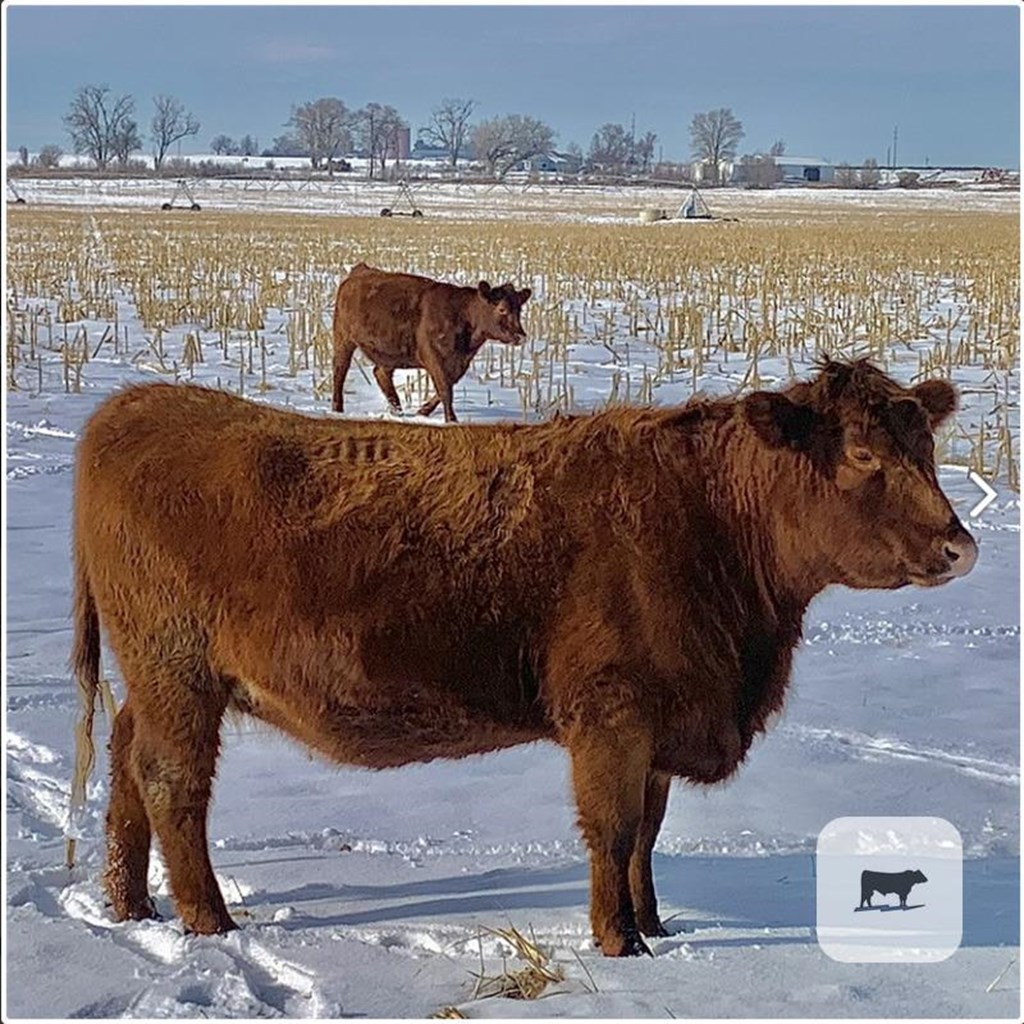 Premium Gals! Disposition, Fertility, Pelvic sized for calving ease, longevity!
These are front-end Red Angus heifers from a top quality outfit! Everything is managed correctly in this cow herd. The Bred Heifers are selling due to drought. They are gentle and ready to go to work. Pelvic sized at bangs vaccinations to ensure minimum calving issues. These heifers will calve on their own with minimal input and have the condition!
Would prefer to sell them in 55 & 15 head groups. Our cows are a source of pride for us, we have a reputation herd and have sold GAP4 calves on Superior video for the last two years. Before that we were typically in the top 1% of our marketing at the local sale barn for calf price. Replacement Heifers Retained from herd based on pelvic measurement ability to breed in one heat cycle on heifers and disposition. Fertility is our main selection. Factor followed closely by mature cow size. Sizing helps to prevent calving issues. Our cows are easy to handle, respect hot wire, and Barbwire fences. Culled for generations for fertility and disposition.
We are looking to sell them because we have had a drought for two years and we don't have any more grass. We've survived two years of bad dry weather and a big range fire. Cows are a forage-based herd we rotationally graze native grass in the summer and cornstalks and stockpiled feed in the winter with supplement protein as needed and supplement feed If we get snow cover. our cows are fed very little supplemental feed, weather permitting, and are very easy keeping in a moderate climate in northeast Colorado.
Connexion Livestock
Boe Robbie
Home Phone: 406.855.0051