194 Red Angus, Angus and Crossbred Cows w/30+ Calves... Southeast OK
Listing Number

211D156
Location

Southeast Oklahoma
Ship From

Fort Towson, Oklahoma
Breed

Angus, Crossbred, Red Angus
Registered?

No
Number for Sale

194 Head w/ 146+ Calves as of early Nov.
Origin

Younger are homegrown, others purchased from Texas, Oklahoma and Kansas
Age

3-9
Est. Weight

1250
Frame

Moderate to Large
Condition

Fleshy
OCV

Yes
Vaccinations

All cattle are on a Modified Live vaccine program and we deworm using injectable Dectomax and Valbazen drench. All are on a BoviShield Gold FP5 L5 and Covexin 8 routine at preg check and a Staybred VL5 at pre breeding. But everything needs its fall shots since we preg checked for the sale and did not work them. All cows are tested and negative for PI.
Horns

A few.
Pasture/Feed

Rotational grazing and a protein supplement every other day.
Bred To
Preg Checked

Already Checked
By Whom

Dr. Josh Morris, DVM
Start Calving

September 9, 2022... 146+ Calves as of early Nov.
Finish Calving

December 31, 2022
Sell Part/All

48,000 lb. Load Lots
Delivery Date

Now through November 27 at Seller's availability.
Price

Contact Seller for Current Pricing
Firm/Negotiable

Negotiable
Payment Terms

Wire Transfer or Certified Funds
Seller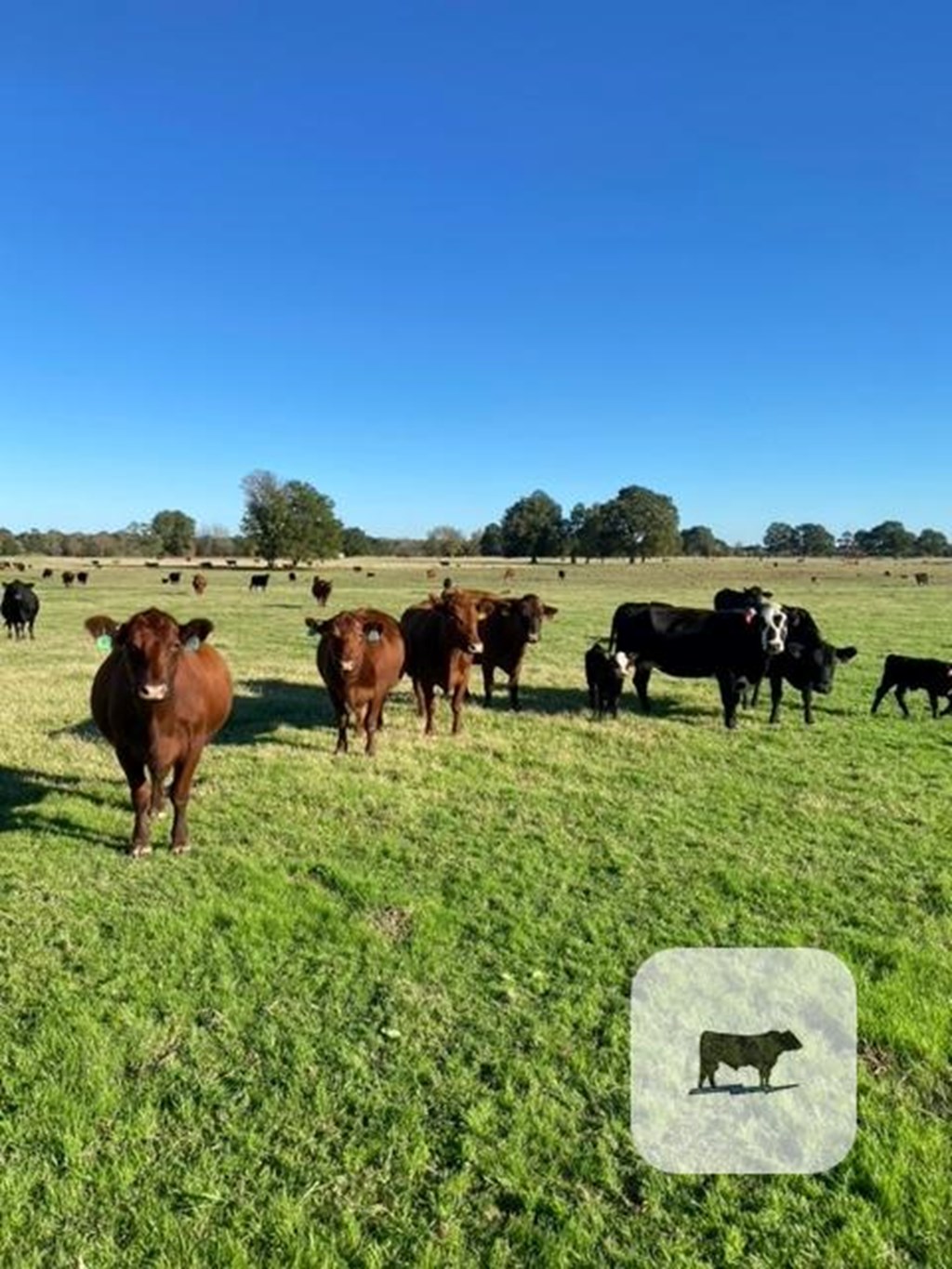 We have a total herd dispersal of 100 Spring Calving Cows & 194 Fall Pairs & Heavy Breds as well as 10 Red Angus Bulls.
All cows have been palpated and aged by a DVM. We have the individual records correlating with the visual ID and EID of each animal.
All culls have already been pulled off and shipped.
We utilize rotational grazing and plant summer and winter forage and have not started haying yet. We have started putting out a protein supplement every other day for the past two weeks.
We also have equipment and other items available on our website.
*Website will continue to be updated so check back often! https://www.rafterjmaussies.com/dispersal.html
Rafter JM Cattle Co.
Contact: Justin Dow
Business Phone: 580-916-0463
Home Phone: 903-249-4231
Alternate Contact: Jenny Dow
Alternate Contact Phone: 903-249-4231
Best Time to Call: After 5 pm or anytime on weekends.