8 Hereford Cows w/ 2 Calves... Central TX
Listing Number

207D560
Location

Central Texas
Ship From

Temple,Tx
Breed

Hereford
Registered?

No
Number for Sale

8 cows, 2 Calves
Origin
Age

2 yrs old - Solid mouth
Est. Weight
Frame

Moderate
Condition

Medium Flesh
OCV

No
Horns

Mixed
Bred To
Preg Checked
Start Calving

September, 2022
Finish Calving

February, 2023
Sell Part/All

Contact Seller
Delivery Date

Available now
Price

$875/ hd or pair
Firm/Negotiable
Payment Terms
Seller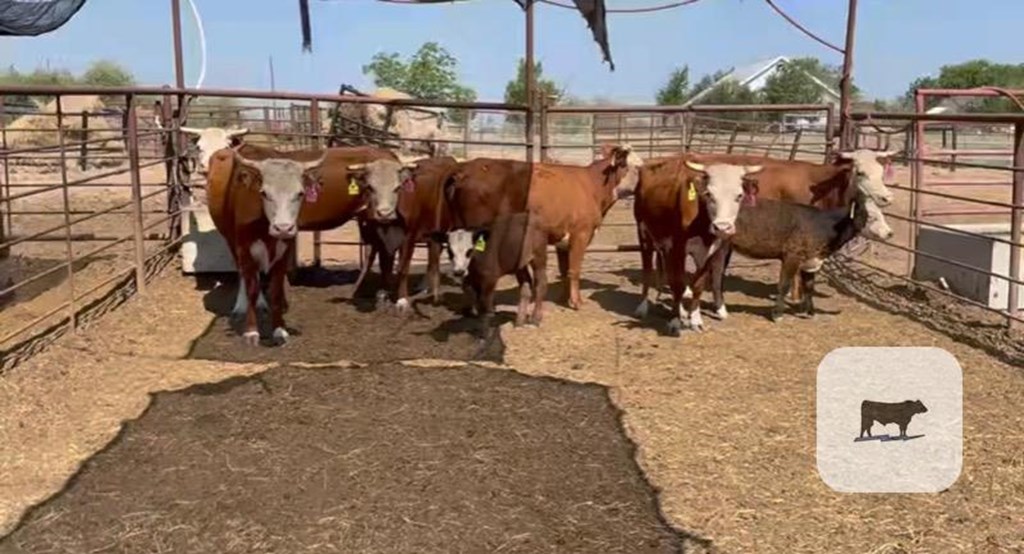 They're a good set of inexpensive money making Herefords.
8 Hereford cows and two black baldy calves coming off of one place.
In the group will be four bred cows that'll be vet checked and confirmed bred to calve September 2022 through February, 2023. And two pairs with black baldy calves at their side and two wet bag cows.
Pairs and wet bags have been running back with Angus and Brahman bulls and could be bred back. The wetbags were palpated open on 7/9/22.
They'll be aged 2, 3, 4, 4, 4, 5, 6, Solid.
They've just been worked and vaccinated and are turned out on a hotwire place and will come to feed.
Take the set of eight cows and two calves for $875/head or pair with free delivery the first 50 miles of Temple, TX.
See video at www.ribearcattle.com or call/text 254-931-8910 thanks!
Andrew Tiner
Home Phone: 254-931-8910
Best Time to Call: Anytime before 8 pm.